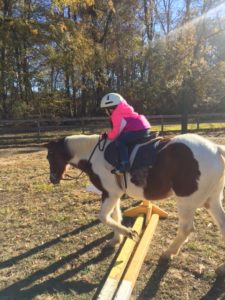 PRIVATE LESSONS
Private lessons are scheduled by the hour and lesson time includes ground instruction & assistance in grooming, tacking and safely handling horses before and after the lesson. Mounted instruction (riding time) is a minimum of 30 min. up to 45 min. per lesson.  You may also plan to arrive 15-20 min early to start getting ready.
Hour Private Lesson (single) – $55
Hour Private Lesson Package 4 (four lessons) – $200
Hour Private Lesson Package 12 (twelve lessons) – $550
PLEASE NOTE: We start each rider in private lessons. If the student wishes to be part of a semi-private or small group, they may be transitioned to a group lesson when (1) the instructor determines that the student has sufficient skills to join a small group, (2) the student can independently (or with help of a parent) correctly tack and un-tack the horse and (3) there is availability in an appropriate group. Please contact us if you have any questions regarding group lessons.
If you would like to ride as a couple (for two related parties from same family or single payment source, including spouses, dates, parent/child, siblings — friends who want to ride together will need to use the semi-private option), please see our Couple Riding page for more information.
Semi-Private / Group lessons range in size from 2 – 4 students of similar skills; mounted instruction (riding time) is on average 45 min. – 1hr per lesson.
Semi-Private / Group lesson is 2 – 4 people in an hour lesson; price shown is per person.
Semi-private/Group Lesson – $45
Semi-private/Group Lesson Package 12 – $480